Consisting of students from different fields who are products of grit, TIP Mileage Team challenges to build and design a most fuel efficient vehicle that will run in farthest distance with smallest amount of fuel in the upcoming Shell Eco-marathon 2012 on July 4-7 which will be held in Malaysia. Its three-wheeled vehicle project named "Symmetry 2.0" under the "Prototype Category" intended to maximize fuel efficiency through its innovative design and concept. This project proffers each member to create an actual application of their learnings and build what we call harmony with their co-members. The team is comprised of different designations which composed of members with expertise.
Aspirations
TIP Mileage Team supports the global advocacy such as reducing carbon dioxide emissions and increasing the energy efficiency of vehicles. This initiative drives us to develop a more ideal and efficient vehicle in our modern era, and in order to minimize or lessen the effect of Global Warming. In addition, through Shell Eco-Marathon Asia 2012, we are equipped with passion and interest to create the best fuel consumption in the upcoming event. We want to showcase our ingenuity through this competition and make a stand in the entire Asia.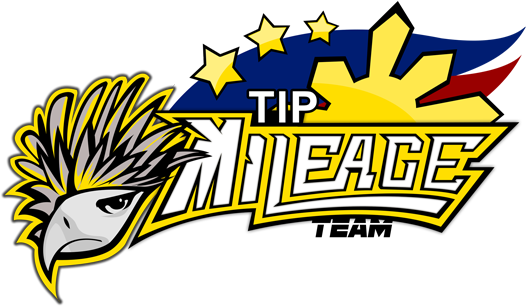 The Logo
As the Philippines' official delegate in the Shell Eco-marathon Asia 2012, we are bringing the pride of our nation. We choose the Philippine Eagle and the Philippine National Flag as part of our official logo to embody the nation's symbolic features and culture.
Nowadays, the Philippine Eagle is critically endangered in our forests mainly due to massive loss or destruction because of deforestation in their habitats. As part of the advocacy in protecting and conserving the Philippine Eagle, TIP Mileage Team shows its full support in promoting and advertising the awareness in saving the Philippine Eagle. In addition, the existence of the Philippine Flag in our logo will make our team easily to distinguish what country we are signifying.